Advertising Banners on our platform
Get your Business seen by thousands of people visiting our platform.
Here is why you should consider it:
Your Advertising Banner is unique
We don't allow multiple ads to run in the same place (e.g. rotating Ads). Only your banner will show in your chosen space.
You decide where your Advertising Banner is being displayed
We will work with you in order to display your advertising banner in the right place. For example, if you sell solar panels services/products, you may decide it's better for your Ad to show up on the "Solar Energy" category page.
You will get the Right Audience
As our platform is focused on renewable energy and electric mobility, the vast majority of our visitors will be interested in products or services related to these domains.
Even if your Business is operating in a different sector, you can still benefit from our Advertising Banner service. Let's say you run a Hospitality business. At a first glance,  you might not be interested in advertising on a platform like VOLTPOT, unless… Think about the fact that there is an increasing demand for electric cars charging services! You might be able to offer this to your clients. Your visitors will also be happy to find out that they have designated spaces available in your lobby to charge their mobile devices (a simple power socket should do the trick). Some businesses are already using this type of incentives for their customers ( example here ).
Banner Positions
Zone A
Your banner will show up at the top of most our portal pages* , as shown in this picture: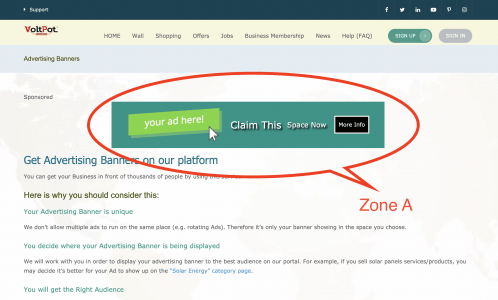 Zone B
Banner is displayed on the side bar of our website main pages*:
Zone C
Your advertising banner is displayed within our News articles: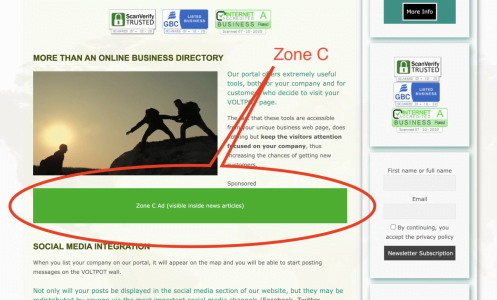 Advertising Banner prices
We operate this service on a "first come first served" basis at the moment. If high demand for this service, we will consider the "best offer" system when two or more advertisers compete for the same zone.