VPC faucet and airdrops
To send a tip to the author, please login.
First VPC faucet and airdrop campaign launching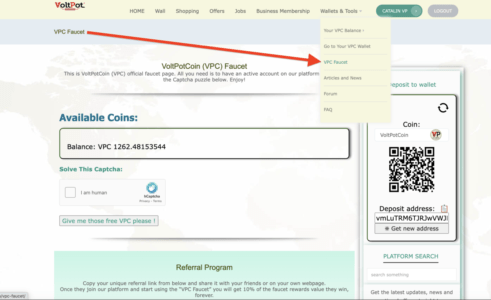 We are happy to announce that the first VoltPotCoin (VPC) faucet has just been launched, alongside with the first airdrop campaign for our platform registered users.
VPC Faucet Rewards
All our registered users have now the possibility to get their first VoltPotCoins or just to add some more to their existent wallets.
The faucet rewards can be obtained by just solving a simple Captcha on the Faucet's page. The reward is credited instantly to the user who successfully solved the Captcha and it will show up in his/her transactions list.
There's a 6 hours minimum time gap needed between two consecutive attempts to resolve Captcha and claim the reward for each user. As the coins available in the Faucet is limited, we consider this measure necessary in order to limit abusive behaviours and give a chance to more users win Faucet rewards.
When the Faucet is depleted, we will refill it. The users will be informed about the faucet being refilled by email first, via our Newsletter, then by our social media channels. So make sure you subscribe to VoltPot Newsletter now and be among the first ones to find out about the latest news and updates.
VPC Faucet Referrals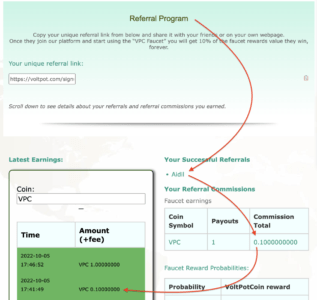 On the VPC Faucet page you will find your unique "referral link". You can copy that link and share it with your friends on social media, send it to someone by email or just use it on your own webpage if you want.
Once someones successfully used your unique VPC Faucet referral link, it will automatically show up in your "referrals list". From that moment on, anytime someone in that list uses the Faucet and gets a reward, 10% of their reward value will be automatically credited to your account. And we don't have a time limit for this. You'll receive this commission whenever one of yours referred friends wins a faucet reward.
So get your friends onboard now and enjoy together the amazing features brought to you by VOLTPOT® platform and VoltPotCoin!
VoltPotCoin Airdrops
Today we also initiated the first VPC airdrop campaign.
This initial Airdrop is targeting our platform's users which are registered as "Clients/General users". In the following Airdrop Campaigns, the users registered as "Business Owner" will also be considered.
The present Airdrop campaign started today, 05.10.2022 and it will end on 31.12.2022. Every week, the above mentioned user category will see small VPC amounts landing in their web wallets hosted by voltpot.com
Thank you for your contribution to our unique platform. Let's build a beautiful and strong VOLTPOT COMMUNITY together!