Why to list your company with us ?
To send a tip to the author, please login.
Customers Focused on Your Company
Regardless of whether we are talking about products or services, any company that wants to thrive needs a very close relationship with its customers.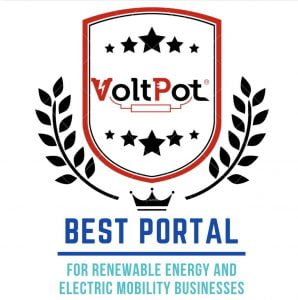 Nowadays, more and more people are looking at websites before deciding to buy a product or service.
Most of the time they use internet search engines and access different websites to get the best information before they spend their money on a product or service.
VOLTPOT solves this problem, giving potential customers the chance to find all the information they need, in a single web page of your company.
From this page, visitors can access other web pages that can provide more detailed information. (links to your social media pages, to your own website and other links that you find useful. You can configure your business page as you wish and as you consider most appropriate to promote/sell your products and services in the most efficient way)
MORE THAN AN ONLINE BUSINESS DIRECTORY
Our portal offers extremely useful tools, both for your company and for customers who decide to visit your VOLTPOT page.
The fact that these tools are accessible from your unique business web page, does nothing but keep the visitors attention focused on your company, thus increasing the chances of getting new customers.
SOCIAL MEDIA INTEGRATION
When you list your company on our portal, it will appear on the map and you will be able to start posting messages on the VOLTPOT wall.
Not only will your posts be displayed in the social media section of our website, but they may be redistributed by anyone via the most important social media channels (Facebook, Twitter, WhatsApp, Linkedin, Pinterest).
A visitor who decides to redistribute your message on one of these media channels has at least few other contacts interested in the same product or service. It is not hard to imagine what the advertising potential of this tool is. .
Basically, your posts on the VOLTPOT wall have a real chance of becoming viral in the online environment, just by the fact that one or two people have considered your posts relevant. (examples here)
ONLINE BOOKING
Your VOLTPOT page can be configured to give visitors, in addition to your contact details and company description, the possibility of setting up a meeting online with you, requesting to be contacted back by you or even buying a service you provide, with a simple click. (example here)
This is the "Booking" service that automatically activates when you set up a customer calendar.
ONLINE SHOP
In recent years, most buyers prefer to buy products and services online.
With our platform you can set up your own online store.
Customers can purchase  your products and services  directly from your VOLTPOT business page. (example here)
In addition, all  your products marketed through VOLTPOT are synchronized and displayed on our official Facebook page. This way you will be able to gain more visibility and increase your sales, without any additional costs.
CUSTOMER FEEDBACK
We also included a customer feedback system on your VOLTPOT business page.
They can rate your business from one to five stars, for different aspects of the interaction they had with you. (example here)
Being granted a five star rating your company will obviously be preferred by potential new customers.
B2B / BUSINESS NETWORKING
We do not  just focus on the B2C aspect , B2B features are also available.
You can also find business partners with other companies and get in touch with them very easily.
With a "Business Owner" account on our website, you can use the private messaging service to communicate with other companies that have activated this tool. This way you will be able to establish direct business links or even initiate a sale of services, without making it publicly visible.
JOBS MARKET & SPECIAL OFFERS
If you are looking to hire, our website gives you the opportunity to publish your job offers.
These will be visible not only on your unique page, but also in the "Jobs" section of our portal. (example here)
You can also create and publish any special offers that your company has available.
These special offers are displayed within our portal in key locations so that they are as visible as possible. (example here)
—–
ENERGY REVOLUTION IS HERE
Our portal is aimed mainly at companies operating in the field of renewable energy and electric powered vehicles. We must not lose sight of the fact that more and more people will be looking for those locations where they can charge the batteries of an electric vehicle or of a mobile electronic device.
Also, the companies that produce and market components and accessories for the market in the fields of renewable energy and electric cars, will be increasingly sought by both domestic customers and by the profile companies.
Whether you have a business that, at present, only offers the possibility of charging a mobile phone for your customers or, on the contrary, your company is developing in the sector of renewable energy and electric vehicles, our web portal is the best choice on which you can do.
---
WE ARE UNIQUE
You will find nowhere near such a complex and comprehensive platform.
VOLTPOT is the first and only web portal designed to help your business prosper in the years to come.
---