Smart Drone
To send a tip to the author, please login.
A drone controlled by bare hands
We were looking in the smart drone category products available on market. This little one got our attention. Looks like it's part of a Sci-Fi movie. The way you can control it makes you feel like a "Jedi".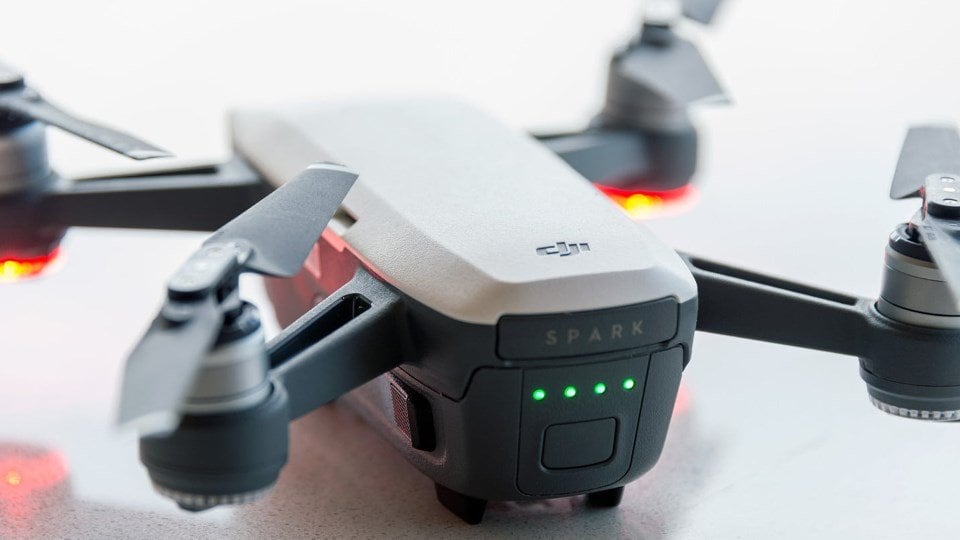 Presenting a new smart drone from DJI: code name – Spark
There are a lot of technical specs for this flying gadget. What we think is worth to mention though, is its capability to respond to your hand gestures. And it also have facial recognition capabilities.
You don't have a controller or a smartphone available?
Not an issue for Spark. It will take off, move around, take pictures and land only based on your hands gestures. Impressive, isn't it?
Have a look at this video :
Let's have a look now at this technical data extras
AIRCRAFT
Takeoff Weight
300 g
Dimensions
143×143×55 mm
Diagonal Distance (propellers excluded)
170 mm
Max Ascent Speed
9.8 ft/s (3 m/s) in Sport Mode without wind
Max Descent Speed
9.8 ft/s (3 m/s) in Auto Landing Mode
Max Speed
31 mph (50 kph) in Sport Mode without wind
Max Service Ceiling Above Sea Level
13,123 feet (4,000 m)
Max Flight Time
16 minutes (no wind at a consistent 12.4 mph (20 kph))
Max Hovering Time
15 minutes (no wind)
Operating Temperature Range
32° to 104° F (0° to 40° C)
Satellite Positioning Systems
GPS/GLONASS
Hover Accuracy Range
Vertical:
+/- 0.1 m (when Vision Positioning is active) or +/-0.5 m
Horizontal:
+/- 0.3 m (when Vision Positioning is active) or +/-1.5 m
Transmitter Power (EIRP)
2.4 GHz
FCC: 25 dBm; CE: 18 dBm; SRRC: 18 dBm; MIC:18 dBm
5.8 GHz
FCC: 27 dBm; CE: 14 dBm; SRRC: 27 dBm; MIC: –
Operating Frequency
2.400 – 2.483 GHz; 5.725 – 5.825 GHz
CAMERA
Sensor
1/2.3″ CMOS
Effective pixels: 12 MP
Lens
FOV 81.9° 25 mm (35 mm format equivalent) f/2.6
(shooting range: 2 m to ∞)
ISO Range
Video: 100-3200
Photo: 100-1600
Electronic Shutter Speed
2-1/8000 s
Image Size
3968×2976
1440×1080 with ShallowFocus
2300×1280 with Pano (horizontal)
960×1280 with Pano (vertical)
Still Photography Modes
Single Shot
Burst Shooting: 3 frames
Auto Exposure Bracketing (AEB): 3 bracketed frames at 0.7 EV bias
Interval: 2/3/5/7/10/15/20/30/60 s
Video Resolution
FHD: 1920×1080 30p
Max Video Bitrate
24 Mbps
Supported File Systems
FAT32
Photo Format
JPEG
Video Format
MP4 (MPEG-4 AVC/H.264)
REMOTE CONTROLLER
Operating Frequency
2.412-2.462 GHz; 5.745-5.825 GHz
Max Transmission Distance
2.412 – 2.462 GHz (unobstructed, free of interference)
FCC: 1.2 mi (2 km); CE: 0.3 mi (500 m)
SRRC: 0.3 mi (500 m); MIC: 0.3 mi (500 m)
5.745 – 5.825 GHz (unobstructed, free of interference)
FCC: 1.2 mi (2 km); CE: 0.18 mi (300 m)
SRRC: 0.7 mi (1.2 km); MIC: –
Operating Temperature Range
32° to 104° F (0° to 40° C)
Battery
2970 mAh
Transmitter Power (EIRP)
2.4 GHz
FCC: ≤26 dBm; CE: ≤18 dBm; SRCC: ≤18 dBm; MIC: ≤18 dBm
5.8 GHz
FCC: ≤28 dBm; CE: ≤14 dBm; SRCC: ≤26 dBm; MIC: –
Operating Current/Voltage
950 mAh @3.7 V
Supported Mobile Device Size
Thickness range: 6.5-8.5 mm
Max length: 160 mm