Several minutes of your time, valued more than $1.000 !
This offer is discontinued
Join our free "iVolt-Spotted" program and you can consider a $10/minute value action, each time you submit a new Volt-Spot on our Social Integrated map.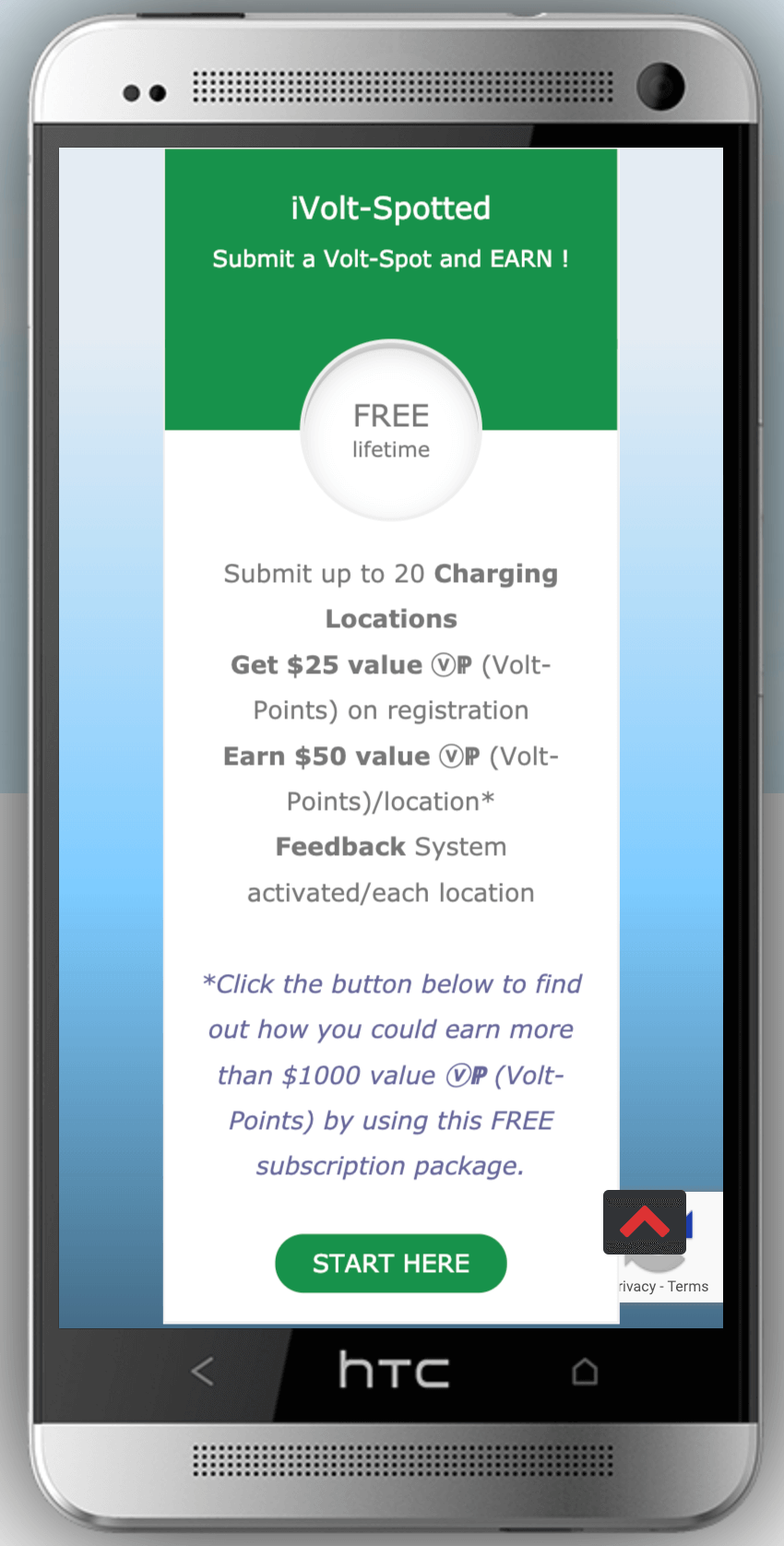 It should take no more than 5 minutes for you to submit a new Volt-Spot.
It's easy. Just follow these three steps:
1. FIND A PUBLIC LOCATION offering charging services
Do you know a restaurant, a hotel, a shopping center, an airport or any other public location where customers can charge their phones, laptops or even their electric vehicles? It's time for you then to mark this location on VoltPot's map as a Volt-Spot. It will be yours until the business owning that place will decide to claim that Volt-Spot* and "pay" you for this.
---
2. GET YOUR FREE "iVolt-Spotted" membership
Click here to get your lifetime free "iVolt-Spotted" membership. You will be granted 50 Volt-Points (RRP $25) upon registration and you'll be able to submit up to 20 Volt-Spots on our map. Use Volt-Points to pay for products or services being offered on our platform. You can't sell them. You can transfer them to other users/businesses, though. Volt-Points can also be transferred to you, by other VoltPot users.
---
3. SUBMIT YOUR VOLT-SPOT
and share it on Social Media websites
Login to your new account and submit your Volt-Spot by using our intuitive, step-by-step "Business" submission process. Make sure you fill in the correct address/location of your Volt-Spot. If the location you want to submit is already showing on our map, then find another one.We will not accept duplicate locations on our map. Once your Volt-Spot has been verified and approved, it will become visible on the map. You will be able to share it on the main Social Media channels and make it popular. *More people being interested in your Volt-Spot, greater the chance for the business operating in that location to show up with a "claim" request to us. The minimum "fee" the business has to "pay" to you is 100 Volt-Points ($50 RRP) by using our integrated point-transfer system. We will always assist you through this process.
---
Note: Please use our Facebook Page or our Contact Form in order to get support for this program. You can find us on Twitter as well.
Watch this video that we received from one of our users: