How you can easily save your Uninterruptible Power Supply (UPS) in just 2 steps
To send a tip to the author, please login.
Do not dispose your Uninterruptible Power Supply (UPS) prematurely
One of the uninterruptible power sources we use stopped abruptly a few days ago. It is about a PowerWalker VI 2200VA IEC 1100W unit, which has been operating 24/7 for the last 5 years.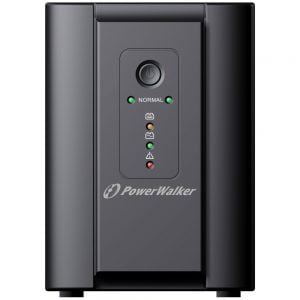 Although as you can see in the videos below, the green LEDs indicated a normal status, not only did we no longer have power on the output, but not even the UPS fan was able to perform a single complete rotation.
Contacting our Uninterruptible Power Supply's manufacturer
Before opening our UPS case, we decided to contact the manufacturer to find out if the symptoms presented could be caused by a malfunction of the motherboard or an electrical relay. Unfortunately, PowerWalker could not help us with any idea other than to send the unit to their service in Germany. Everyone knows that these power sources are quite heavy (over 10kg on average). Considering the postage and possible additional costs involved by the defects that could be discovered by PowerWalker in their service, we decided to try to repair the UPS source ourselves.
Troubleshooting the issue
So, after a visual inspection of the cables and the motherboard, we didn't notice anything fried or melted. We took the two batteries out of the circuit and checked the voltage of each of them. As expected, one of them measures around 8V and the other around 10V. It was obvious to us now that the two batteries were over.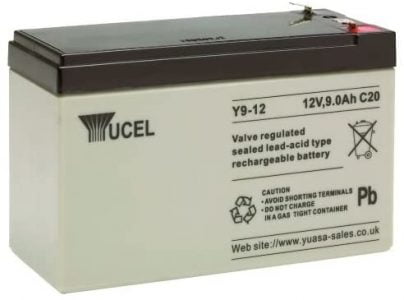 We ordered a set of batteries from Amazon, with similar characteristics to the original ones. We did not choose the most expensive or branded batteries. We just tried to meet the parameters of the original batteries, with which the unit was equipped by the manufacturer. Let's not forget that, in fact, at that time, we still didn't know for sure what the problem we were facing was. Hence, on a quick search on Amazon, we found these batteries having a good value for money. Once they were delivered to us, we mounted them in the circuit and, what do you think? Our UPS source has come back to life as before.
The manufacturer's advice is not always coming very helpful
It remains a mystery to us why PowerWalker manufacturers had no idea that outdated batteries could lead to such symptoms for the product they made. Or maybe the answer is that it's just more profitable for them to collect some money for a trivial troubleshooting like changing batteries or, even better, to push customers to buy a brand new unit.
Anyway, for us, it was not extremely difficult to disassemble this UPS unit and perform some basic measurements. It took us about an hour to replace the batteries and to reassemble and test the system to make sure that was the only problem. Just be aware that for this particular PowerWalker Uninterruptible Power Supply model you will need a longer screwdriver, at least 10cm long, in order to be able to take out those four screws fixing the top case.
In a nutshell
Check and replace your

Uninterruptible Power Supply UPS batteries,

if necessary.
Do not dispose your electronic devices before trying to troubleshoot them.
Try to get any specialised advice available from the manufacturer or from qualified technicians.
While troubleshooting yourself the problem, start with the most common possible issues (in this case the issue was just some old batteries).
Consider all the SAFETY RISKS before trying to fix any electronic or electrical device. If not sure, ask for a specialist to help you.
By repairing or recycling your electronic devices, you will reduce the carbon emissions and the carbon footprint to Earth.