Fully Electric Combat Tank
To send a tip to the author, please login.
Fully Electric (unmanned) Tank is here
In some of our previous articles we mentioned different types of fully electric vehicles. All of them are designed for civil purposes. This time though we will show you a fully electric military combat tank.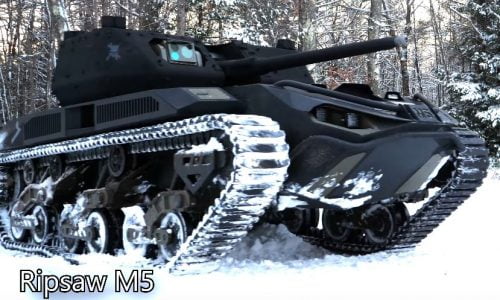 Developed by Howe & Howe, Textron Systems, and FLIR Systems, Ripsaw M5 is getting this type of weapon to a totally new level.
The Ripsaw M5, originally featured on a reality TV show, has been transformed into a heavily armed combat drone equipped with an autocannon and two drones of its own. It is fully autonomous, all electric tank with max speed up to 60 mph (96 km/h) with a modular design, packing a total of 1,600 horsepower. We don't have any more details about the batteries, engines or about its transmission as this data was not made available for the public.
Based on the video from below it looks like this machine is incredibly capable and most of all, SILENT :
The M5 'Robotic Combat Vehicle' has been developed as a heavily-armoured combat drone that can carry both weapons and surveillance drones into the field.
The M5 natively sports a gun turret armed with a 30-millimetre Mk. 44 Bushmaster II autocannon, which is designed to operate against both enemy infantry, trucks and armoured opposition vehicles. It doesn't have any anti-tank fighting capabilities though.