Fastest Electric Ice Cream Van
To send a tip to the author, please login.
Most of us like ice cream. Anyway, kids surely do.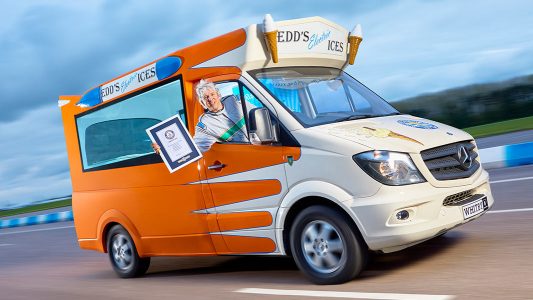 In March 2020, a new Guinness World Record was recorded for the fastest electric ice cream van. This (converted) van reached a zooming speed of 118.964 km/h (73.921 mph).
Edd China began to work his magic to electrify the van back in 2018, which originally ran on a Mercedes Sprinter diesel engine. He discovered ice cream vans were being banned in some London boroughs because of their toxic emissions. So Edd decided to create a special engine conversion kit for ice cream vans so that they can run on electricity rather than diesel.
The record was measured at Elvington Airfield in Yorkshire, UK
The speed he achieved would have given Edd a speeding ticket if he were on a motorway, as the UK's motorway speed limit is 70mph. But if we are to consider that we look here at an ice cream van, its maximum speed is less important. All it needs is to keep the ice cream cold and be environment friendly.