Cybertruck Pre Orders are skyrocketing
To send a tip to the author, please login.
Tesla's Cybertruck pre orders looks like being well above half a million at the moment.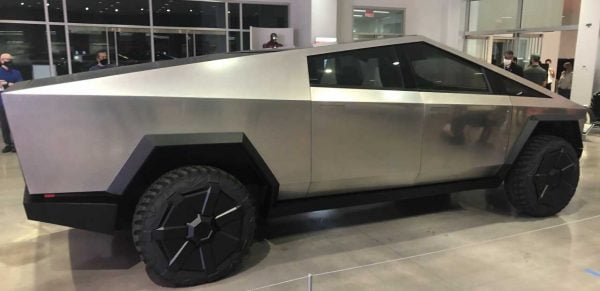 For only $100 or £100 in UK, you can place a Cybertruck pre order in a matter of minutes. Not to mention that this affordable deposit is fully refundable. Considering only these aspects, it's easy to understand why there are more than 650.000 people already in a queue to get their Cybertruck delivered. We would say that they are also very patient people as the Cybertruck will hit the market no sooner than the end of 2022.
Only 17% of reservation holders want the single motor Cybertruck, which is the less expensive version starting at just $40,000.
The rest want the dual motor and tri-motor versions at an almost even split with a slight edge for the dual motor version, which starts at about $50,000. The dual- and tri-motor powertrains will have between 300 and 500 miles of range.
If the conversion rate stands at 20%, we are talking about more than 130,000 Cybertrucks and $8 billion worth of sales.
The question now it's about Tesla bringing the vehicle to production and having the battery cells to match the volume. This will be a very difficult task for Tesla as they will need at least 15 GWh of battery cells per year just to make 100,000 Cybertrucks per year.
Considering that Rivian, will have their fully electric SUV ready sooner than Tesla, we might see some surprises in the near future.
Not many people will probably be very keen to wait in a long queue for Cybertruck and will likely switch over to a R1T or R1S.